The room is 95% done. I still need to sew and hang curtains, cut and install the threshold that we got all the tools moved and put away and THEN remembered, and do the fancy thing I'd had planned for the lampshade.
These pics were taken before I'd moved in their books, toddler beds and the rest of their clothes. This summer, they will get bunk beds to replace the beds they have now.
On with the pics . . .
Here is the tea set that my Aunt Carol sent the girls last fall. It was my design inspiration. You can see behind it the green stripes Emily and I painted on bead board for the lower half of the wall. The top half is the darker pink that is on one wall. And the chair rail has carved roses that I hand painted with some help from Oma.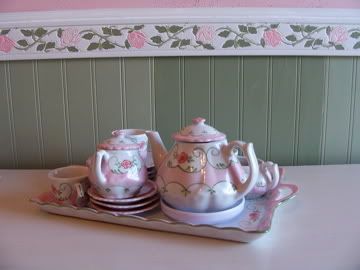 Here is the tea set sitting on a chest of drawers we touched-up and moved in from a different room. It is flanked by their 'closets'--each girl has bins for their socks and such, hanging dresses, and shoe bins underneath. This was before I got their billions of fluffy dresses moved in and all the canvas bins emptied. (They'd been in Charlie's room before that.)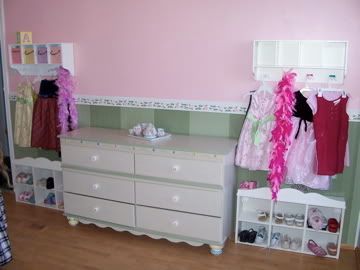 Here's the toy shelf, desk with a chair for each, pretty rug and doll house bookcase from a couple of angles: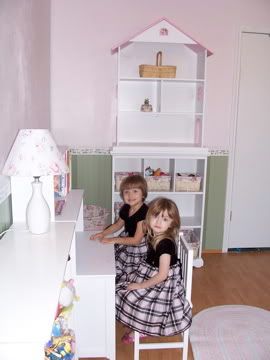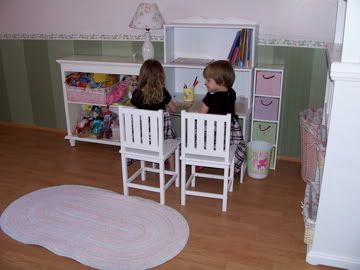 Corner with invisible beds and imaginary curtains: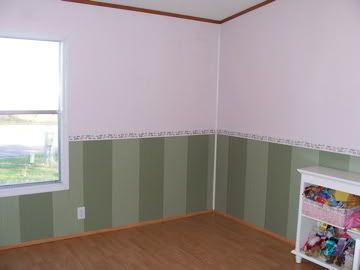 See the light fixture:
And up close: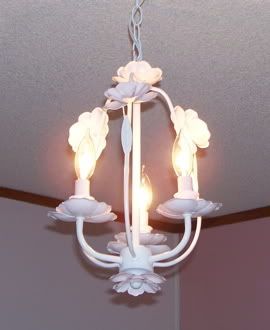 Charlie's take on the changes:
I feel compelled to point out that this room had white unfinished walls and green carpeting. Everything is new--paint, bead boards, chair rail, trim around doors and window, base boards, etc. The only things we pulled from other rooms are the chest of drawers and the wooden shelves with canvas bins and pegs for clothes.
And I also feel compelled to point out that my parents are freaking awesome and came Sunday evening through Wednesday morning to work on the room, watch the kids and work on our SUV.
Please, please, oh, please leave me comments on this!