I love Halloween. If you couldn't tell by the completely insane amount of work that goes into the costumes, let me make that clear now. We have been to four parties, had stuff at school, went in costumes to gymnastics and have one more party tomorrow morning before I drag the kids to visit my my mom and party, yet again. We are just party people.
I showed you pictures of the costumes after the first party. What I have neglected to tell you is about all the dang costume drama since. Last Friday night, I start getting things together for the parties the next day and Charlie's costume is nowhere to be found. Fine. I wasn't crazy about Charlie's Scary Monster costume anyways. So I go to work Saturday morning and volunteer to be the person cut early so that I can go buy fabric and come home and make another Charlie costume.
I am almost done making Rocket Boy (I'll have to get pics to you later) when Scary Monster is found. No problem, I'm almost done and I really love the costume and a spare might be good, as filthy as boy child can get. Considering we have back-to-back-to-back parties, we might just need that spare. Great. Okay, but where is Dixie's tutu? Ack!
So we go to Hobby Lobby on the way to the first party. Tulle is NOT on sale this week. So I spend $11 to buy stuff to replace a skirt that cost me $6 the first time and that I get to make in the car while Dowlan drives. Only, wait! Dowlan didn't get his wallet, so he has no license so he gets to make a skirt while I drive. Okay. All is good.
Get to the party, remember that Dixie's peacock had torn from the shirt last week and I'd forgotten to fix it. Fine. Hey, April, I know you're very pregnant, catered a huge party last night and are now in the midst of your son's party and all, but can I borrow a needle and thread?
***
Now that you're caught up . . . Dixie's class had Farm Day and they were encouraged to dress appropriately. So I made her a horse costume, and, of course, had to make Melody one, too. Fine, because they're apparently having Farm Day, too. Except that, wait! They're having it a different day, so I didn't need two after all. Oh, and Melody's is getting moved to Mondays, which are Chapel Days and the school uniform is required. Soooo, now they can bring an animal t-shirt to change into or just bring a stuffed farm animal to school.
NOT a chance. I made the horse costume, she's wearing it. So she goes to school with her school shirt on with 'khaki' pants that are dark brown and happen to have a tail. She is warmed by her hoodie, which happens to match the pants, mane and all.
So both Farm Days go well, only I don't get to go to either, so I have no pictures. I do have Pumpkin Patch pics, though. Just one teensy problem--my camera shutter didn't really open all the way, so there are black shadows in them that I couldn't always crop out.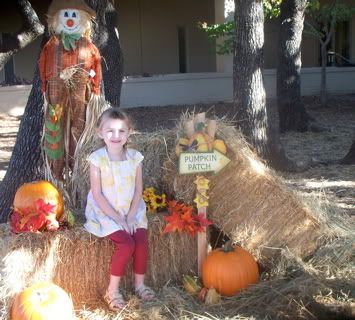 Tomorrow is the big day. I have cakes ready: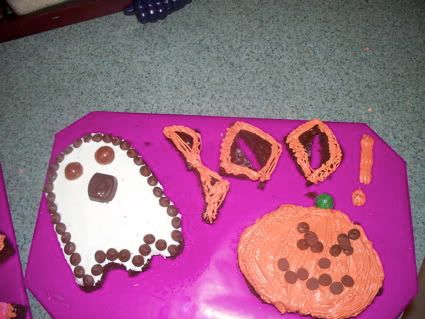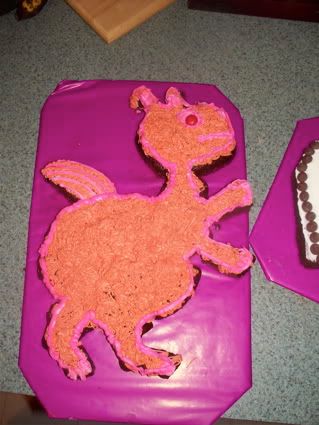 We also made sugar cookies, but they're too boring to take pics of. I have everything packed and loaded and ready to go in the morning because I'm not sure if we'll come home before we leave town. Did I mention the *best* part? Dowlan isn't going. He's going to be holding down the fort and doing some contract work for his old boss. So I get to drive four hours with three children in PennyVann for four hours, staring at her glowing orange 'check transmission' light the whole lovely way.
It's a good thing, too, that tomorrow's parties are costumed affairs, because someone has GOT to talk to Charlie about his clothing choices. He loves jammie pants and has become rather attached to this pink bike helmet. Melody, however, prefers to wear nothing at all: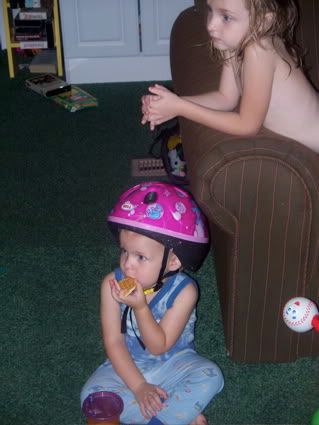 The pink helmet is worn quite often: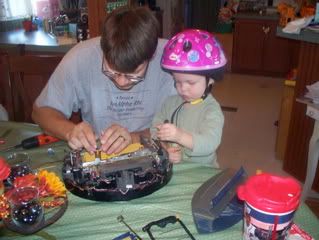 He has also developed a deep fondness for toenail polish: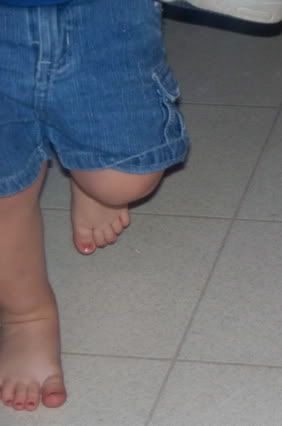 Sigh.