We went to Austin this weekend to see friends and hit up the Lego store. Our friend Aunt Jackee came along, bearing luggage, and I was taking 4 garbage bags of toys from the playroom to my friend who works at a women and children's shelter.
PennyVann was quite full. Still, Melody was adamant that she bring along her pillow pets.
For those not hip to the ways of modern stuffed animals, a pillow pet is a large stuffed pillow with a head, tail, hooves and a velcro attachment in the middle. Velcroed, it is a pet. Un-velcroed, it is a soft, fluffy pillow. There are large and small versions. The visual: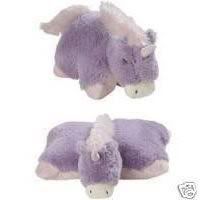 Each of my kids got a large one for Christmas from grandma and got a smaller one some time this summer in a moment of weakness at Walgreens. Charlie and Dixie have different animals for large and small, but both of Melody's are unicorns, like the one in the picture.
Back to the story.
Since the large pillow pet is the size of a sofa cushion, I told the kids they were limited to bringing their smaller companion. Melody was distraught at this news. Naturally, being of the same species, her pets are a mother and daughter pair. How dare we separate them, even for a day?
She worries for a moment about the injustice of this familial segregation before her eyes pop open and index finger points straight up in the air. She grabs the cheer leading mini-megaphone and runs into her room.
Now Charlie is very specific about when his needs to be a pillow and when it needs to be a pet. He interacts with it differently based on the Velcro status. I'd never noticed Melody being all that particular before this moment. Apparently, for Melody, undoing the tab not only changes their status from pet to pillow, it also interrupts their conscious awareness. Because, after confirming the length of our trip, she returned to explain her solution:
"I had her put enough milk in here to last until we get back and then made her a pillow so she wouldn't know her baby was gone and would not miss her or worry or be too sad."
So off we went to Austin with six people, four bags, three pillow pets and a cone full of mythical breastmilk. Whatever you did this weekend cannot possibly top that.