Anyone who has been around awhile knows that there are certain aspects of mommyhood that I relish. Things that I enjoy so much that they make it worth putting up with the actual kids.
Halloween tops that list. I love the challenge of sewing their wildest dreams.
I wasn't entirely certain it was going to happen this time 'round. Especially since it was about two weeks ago that I looked at the calendar and swore a bit.
Friday after Dowlan left town, I braved small town Wal*Mart at 5 p.m. only to discover that they have no fabric section. *gasp* So we bought our rake and groceries and spent the next grueling hour in Hobby Lobby.
The ever prepared Melody has known exactly what she wanted to be: an angel. Her dress is made and awaiting a halo and wings.
The never prepared Dixie changed her mind as the fabric was being selected. She'd planned on a traditional ghost costume--the sheet with the two holes in it--but saw some sparkly fabric and went for a ghost bride instead. So Sunday, between long stretches of sleep, I made a wedding dress in two hours. It's still awaiting the ghastly part, however.
And today I broke a personal rule to avoid bweaking his heart: I made Charlie the same costume as last year. I was never completely satisfied with last year's LarryBoy. The eyes weren't right, the neck hole too big. Frankly, the whole thing was too big. A refresher pic: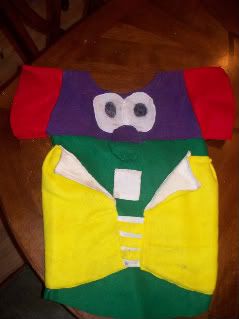 Or two: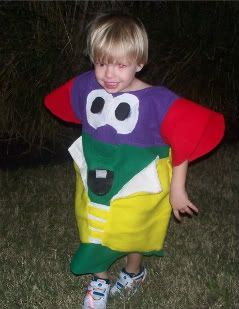 Also, it's current location can only be described as, "in a box in the room with the blue carpet." Yes, it is quicker to sew a new costume than to unpack.
So here's LarryBoy deux: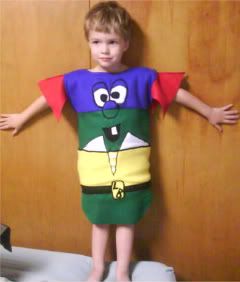 And, because someone said, "Get a pictuwe of my boo-tah-day!"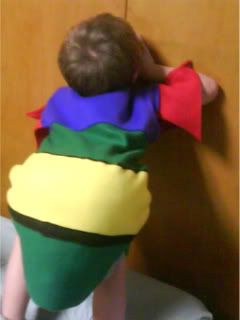 I'll get more pics later (when I find my camera). The phone does a decent job, but the colors are off. The purple looks blue. Also, I gotta stiffen up those super suction ears a bit. Still, not bad for two hours' work.
Bonus pic~Two Super Cool Guys: