Don't seem so surprised.
Before I show off my work, I'd like to reminisce that it was one year ago today that I first showed up for work in our new town, 209 miles from home. When I am frustrated with myself that I am not further along in organizing the house, I remind myself of how crazy those days were. Get hired, show up 8 days later, find a house in five days and sign papers, bring the family to start school, stay in one room of a friend's for seven weeks, travel every weekend to pack and say goodbye, start a new job, get the new house in October, and come down with mono in November while hosting Thanksgiving.
I'm still tired from that mono, but even more tired thinking about it all.
About four months ago, the girls decided they wanted birds. We went through several ideas before settling on two parakeets. Charlie could choose the green one and the girls could choose the other one together. They would get a cage from their Oma.
They've done dishes, put away laundry, swept things, fetched things, cleaned up the yard, picked up sticks before mowing, even saved their spending money from camp. Dixie's birthday swag put them over the $45 goal by $14. A good thing, since we spent $57 and change today on food, gravel, water dish, food bowl and a cuttle bone.
Oh, and these guys.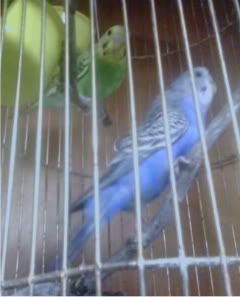 Dot is female and blue and Perry is male and green. We think.
While the kids spent their afternoon sticking fingers in the cage, I sewed.
Because of the window in the background, I'm going to have to wait til dark for better pics.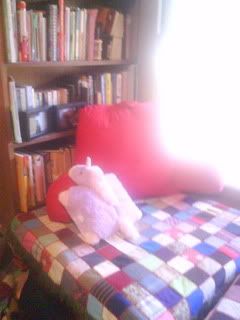 In our house is this fabulous window seat, flanked by built-in bookshelves and overlooking the play area of the backyard. Underneath is Dowlan's technology storage chasm that I don't attempt to explore. Now on top are three cushions that I sewed using a quilt top I got this summer, two pillows I got cheap at Wal*Mart and two girls.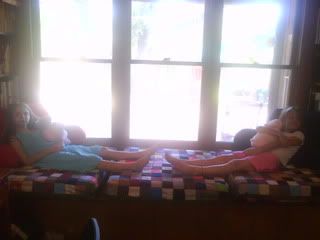 When it's dark outside and I can get a better picture, I'll tell you more about the quilt top.