is Dixie's quilt. I bought her fabric for her birthday and got this far today:
It's going to be quite cute.
Here are some better windowseat pics:
My mom hosts a family reunion at the end of every June. People bring all sorts of interesting things to share like crafts and pics. This year, my Great-Uncle Gene had moved into a smaller house and brought several quilt tops and quilts of his mother's. He spread them out on the lawn for people to choose.
I got this fantastic queen-sized top, intending to finish it and use it in Charlie's room. It's 2" squares, completely hand pieced and then did a vibrant red stitching pattern between the pieces. All of the fabrics are double-knits, that I'm assuming were clothes from the 60s and 70s.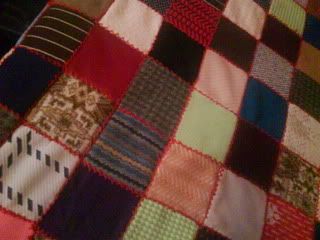 Even the heavy green fringe was made by hand.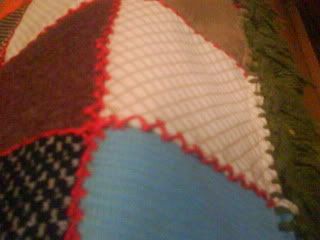 When I started looking it over, I realized it was so heavy that, by the time I added batting and backing, it would be too warm to ever be used in west Texas. The top itself weight at least twenty pounds. I hated to think that it would sit in a linen closet, unused because it never got cold enough.
The project of cushions for the windowseat had been in the back of my mind since buying the house. After pricing out foams and not being able to agree on fabrics, we decided that this would be the perfect use for the quilt top. After all, Great-Great-Aunt Leona did not pour her time into this for it to sit in a closet, never used. This is a space the entire family uses, and on a daily basis.
And perhaps it's the old-fashioned girl in me, but this just looks a lot more home-like and cozy than it would with prissy decorator fabrics.