Dixie is 8.
I'm not sure how that happened, exactly.
Charlie is 5.
Melody got her half. She is 7.5.
In two weeks, I will have three full-time school-aged kids. The girls are in 2nd grade. Charlie's in PPCD.
Every day, Melody empties the dishwasher and Dixie sweeps a porch. We have three porches, so she rotates through. Melody brings me the paper each morning and Dixie brings me the mail each afternoon.
All three of them are old enough to independently tidy a bed and clean a room.
Yesterday, the girls went to see the musical Hairspray with me and behaved. They understood enough to have philosophical discussion about it's central themes of racism and acceptance afterwards. There was that dicey moment where Mel, in the middle of an all-black dance number, burst out with, "She's right! They DO dance better than the white people!" Other than that, they made for good dates to the theatre.
Both girls are old enough to read chapter books in a waiting room or on a car trip. I frequently lose them in the house only to find them holed up somewhere with a library book.
It's just crazy.
Four years ago this month, when I started this blog, I had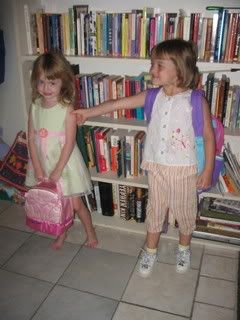 and a