The washing machine is officially dead. It has been slowly dying ever since the lightning strike in early July left the 4 most expensive things (and 3 smaller things) in our home 51% dead. 51% dead is a very irritating for things to be. At 100%, you clearly replace items. At 5%, you shrug it off. At 40% you deal with it begrudgingly. At 75% you begin looking for sales. At 30%, you repair.
At 51% you merely stare at your bank statement and groan inwardly.
So, in lieu of laundry, the girls are embracing the 'reduce, reuse, recycle' mantra.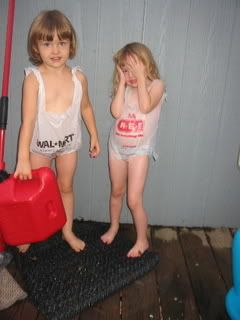 (Okay, these were actually taken a month ago after the first time the washer died. But I kid you not--Dixie is wearing an HEB sack as we speak)