All day I keep thinking about where we were November 1st last year. We came to my hometown because my father-in-law's best friend of more than fifty years died and his funeral was on this date. Even though my in-laws live five hundred miles north of here, their best friends just happened to live less than three miles from my parents.
We came on Halloween so that my kids would have a chance to go to Dixie's Grandma's church's Trunk-or-Treat, bug my aunt a bit and then go trick-or-treat in the neighborhood I grew up in. My mom was leaving town, but I would be at her house and my in-laws would stay there. Dowlan was grieving the man he'd known his entire life.
We woke up the next morning and Charlie was gasping for every breath. I called the pediatrician I'd seen as a child and the receptionist kept trying to put me off, saying, "We're not taking new patients right now." I kept trying to explain that I didn't want to be a new patient. I wanted one appointment. Ever. Finally, I told her, "You go tell Dr. M-- my maiden name and that my 15-month-old is retracting with every breath and see what he says."
She came back within moments, asking how fast I could get there.
I expected an albuterol treatment. We'd been down that road before. Instead we got this: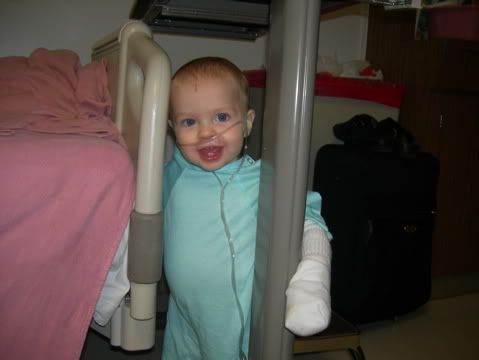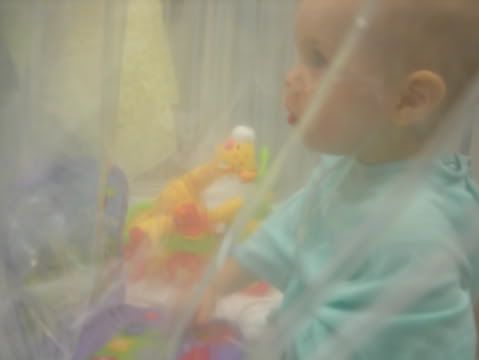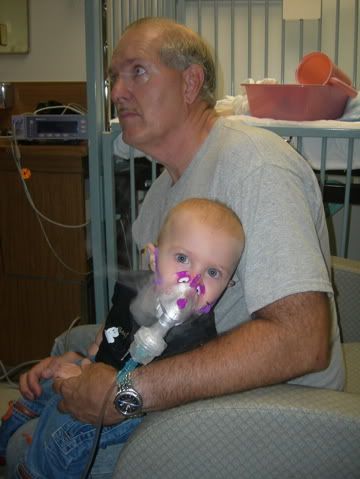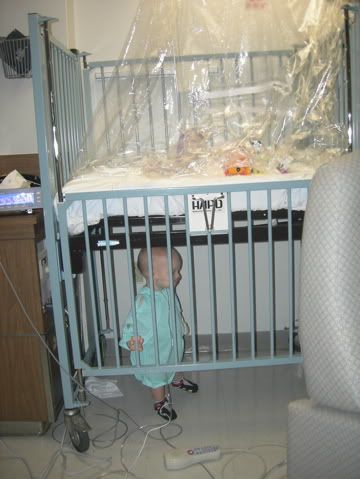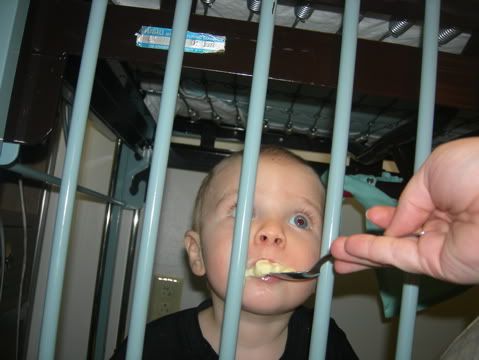 He was in the hospital for five days with croup and reactive airway disease. Meanwhile, Dowlan goes to the funeral and spends time with his family. My mom is out out town and my aunt, father and Dixie's grandma are trading off the girls. I have no idea where they are or what they are doing for most of the time. In the hospital with Charlie, time stands still as I try to keep my newly-walking boy entertained in his oxygen tent. We've packed for a weekend, we're here for a week. I try to shop for a few more things at Wal*Mart and find myself staring at packages of toddler girl panties, trying to figure out what size which girl wears and how many pairs she'll need and which character she prefers and the cost per pair and I almost start crying because I am overwhelmed.
About the time that Charlie is getting better, when I've stopped watching every breath, he gets rotavirus. A friend of mine calls to say that a group of cyber bullies have hacked into my photo account and are posting pictures of my family on the internet and saying horrible things about me in a public forum that I've been a part of for awhile. I have no strength to care--I just give her my passwords to change them and go back to the florescent world of the hospital room. Nothing matters but breathing in and out.
I do get out to go eat dinner with Dowlan one night while my dad spells us at the hospital. We go to the steakhouse I worked at in high school and it is a time machine. The menu board, the carpet, the salad bar, the paint are the same. The owner remembers me. He is the same. The smell is the same.
Charlie has one more night in the hospital and Dowlan is going to spend it up there with me. Until this fifth day, it has been just me and Charlie most of the time while other people care for the grieving family and the nomadic girls. Grandma calls the hospital: Melody has thrown up and is crying for Daddy. Daddy goes to the rescue and ends up sick as well before the night is over.
Charlie is discharged and we depart and I can't remember how to do anything. I go to the pharmacy for medicine and am befuddled by the credit card machine and the options it gives. The fog of the hospital still hangs over me. We load up the children and drive home, praying that the vomiting and diarrhea are over. The nebulizer treatments are ongoing, every four hours, so the four hour trip home has to be perfectly timed.
I hadn't realized how haunted by this I still was until, a year later, I found myself once again heading home on Halloween.