The best thing I can say about my trip home is that John Candy was not my traveling companion.
We'll start here: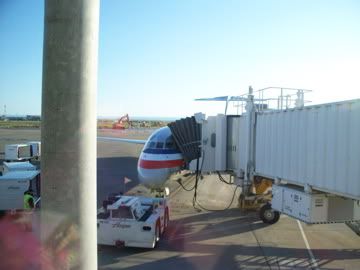 That is the plane I didn't catch. See, I have this group of imaginary friends and they were (almost) all meeting up in Sacramento for one fun-filled kid-free weekend. We're broke and I had no misguided belief that I could actually afford this trip, but I kept remembering that my fantabulous sister-in-law
Joanne
works for American Airlines and has this marvelificent power known as a standby list going for her.
Hemming and hawing, I decided to just go. It was going to cost me less than two hundred bucks for the entire weekend, I always complain that I never get to go anywhere and I start working a full-time job on top of my part-time job next Monday, so why not?
I get there, we have a blast. We craft, go to IKEA, swap coupons and get to eat at the In-and-Out Burger that is so famously referenced in my favorite inappropriate-for-children movie The Big Lebowski.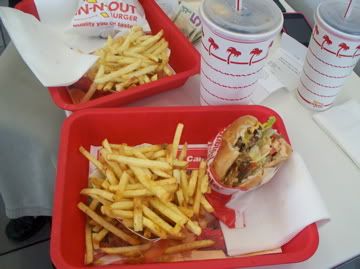 And then it was time to go home. I knew the odds of me getting the flight I was hoping for were pretty slim, but I have nothing but free time on my hands these days, so I didn't really worry. I was falling asleep on my cannoli's at supper Sunday, so I decided it was time to go pack my stuff and go to bed. After the third packing attempt, I gave up and asked my gracious host
Tracy
for a cardboard box and the use of her husband's FedEx powers. I knew my luggage and I might be intimately acquainted over the next few hours and was aiming for simplicity. This was the single smartest thing I did all weekend.
By the time I pack, I am wide awake. As an added bonus, this is the first night I have a roommate and the two of us chat for three hours. At this point, It is 12:30 and I am supposed to wake up at 3:00, so I give up and go hang out with the rest of the people who had made this same decision. At just after 4, I arrive at the airport with plenty of time ahead of me to not catch this airplane.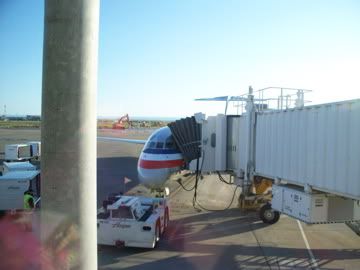 I also fail to catch the one before it or the one after it. Armed with the incredibly bad romance novel that I'd snagged from the meetup freebie section, I hung out in the airport for just over seven hours before the person making airport runs returned with the second group of flyers.
Twice I had managed to catch about twenty minutes of sleep in an airport chair. I pondered the preponderance of people getting their shoes shined. I eavesdropped on every conversation the guy at the ticket counter had with other stand-by hopefulls. The overlap of two spring break weeks made it the worst non-holiday weekend possible to be in this spot. There were a few open spots that might still be open on Thursday, but Friday seemed more likely. I clearly don't mind bumming off my friends, but this is a bit much. Dowlan had already called to tell me, "Everyone's okay, but the house is . . . not," and I figured I shouldn't abandon him for too long.
Plans B, C and D were devised. None of them made sense in my sleep-deprived state.
My friend Jamie takes me back to her house to nap on her couch, hang out with her remarkably Charlie-like son JJ and research my options for getting home. The next morning, she drops me off at the Sacramento Amtrak station. I tried to take pics, but every shot that looked feasible included people that didn't particularly look like they wanted some over-luggaged stranger to document their presence.
The train ride was so relaxing and fun. I watched the scenery, did kakuro puzzles and chatted on the cell phone. California is just so beautiful and I loved watching it just go by.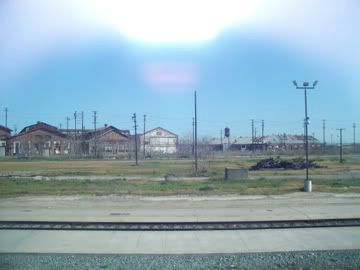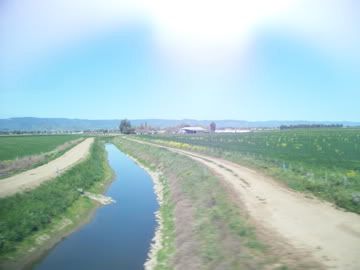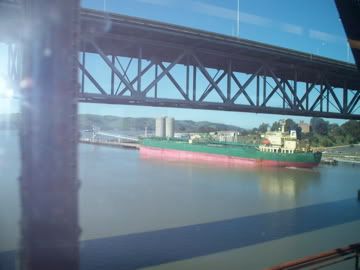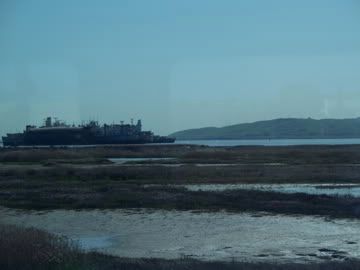 I got off the train in Richmond, rode an escalator and found the BART (Bay Area Rapid Transit).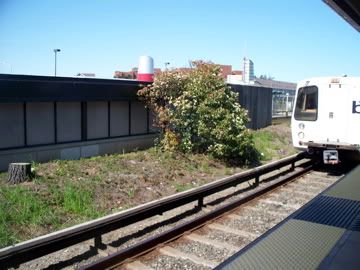 The ride was fine, except for the part where it goes under the bay and everything gets really loud and shaky and my ears couldn't pop quickly enough. I had to switch which line I was on and kill about two hours at some point, and Powell Street seemed the perfect place. You know that hill that goes up and up and has the trolley going through the middle of it that you always see in movies located in Frisco? I walked up that, lugging my messenger bag and dragging my carry-on. My heart was pounding and my mouth was parched, but I just knew that the perfect meal and more perfect view awaited me.
The meal was amazing. I ate at this Zagat ranked restaurant: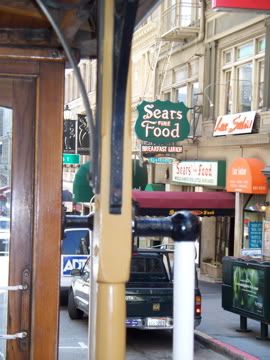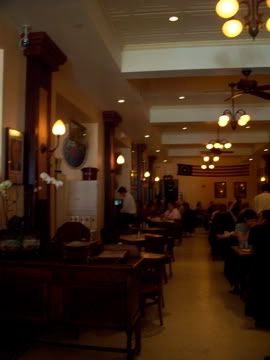 Then I continued up the hill (now on a full stomach) until I reached the top and saw the bay. It was beautiful and completely worth it.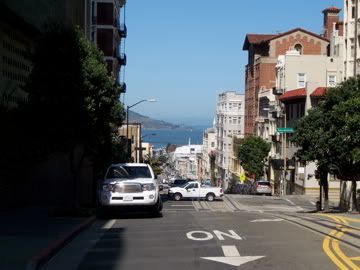 Concerned about my time, I rode the trolley back. That's right, folks. I trudged up and rode down.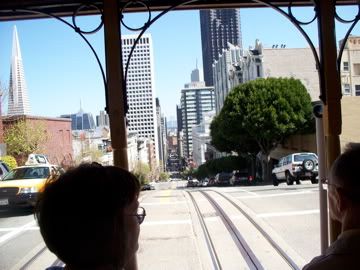 Back to the BART:
This took me straight to the airport. I rode a monorail to the terminal. I bought a book, cherished a Diet Coke and flew to Los Angeles. All that, and I am still in California. Along the way, I read the first section
The Omnivore's Dilemma
, the part on the life of American corn. It starts with the evolutionary history, goes through the Native Americans and colonization, details the revolution to large-scale agribusiness and then iterates all the processing it goes through and uses it has once it is made in to all those bizarre concoctions. I learned useful information, like that there are 38 ingredients in a single Chicken McNugget, most of them are derived from corn. In fact, there is more corn in a McNugget than there is chicken. Same for the fries. Coke is almost exclusively corn.
I arrive in LAX, starving and faced with the choice of which fast food restaurant to eat corn-products at.
I finally get on a plane headed to Austin and scheduled to land at just past midnight on Wednesday, two days after I'd intended to be home. The guy next to me is Very Important and is just jerky to the flight attendants. He hogs the arm rest. He used his iPhone up til the very last second then twitched the whole time that all electronics were required to be off.
I read about organic farming, watched a bit of TV on the MP3 player and, finally, came home.