This site I frequent, woot.com, has the occasional offering of Random Crap. You spend $8, you get a box a few days later containing at least one vessel of some form (traditionally a bag) and a minimum of three random crappy items. This sounds simpler than it is, as they only offer 4500 of them, they sell out within minutes and their servers cannot take the pounding. Basically, it's a craps shoot.
I got one last week, knowing full well the stern lecture I'd have to endure from my mother. This is my 5th BOC (Bag of Crap) and the others, well, have lived up to their name.
This one rawked. It's like the Woot Givers knew exactly what my family needed. 'Two Yay! It's broccoli!' shirts in the perfect size for the girls, an MP3 player that is compatible with our MP3 alarm clock and that will both replace the one Dowlan lost and fill the thirty-minute silent void I experience at the chiropractor each day, 2 thumb drives that will help Dowlan run files from place to place and a galvanized tin pail that Charlie will enjoy hitting with hammers to make grand noises. There is also a Mobile Battery Powered Hub that we have no use for, but you'll hear no complaints here.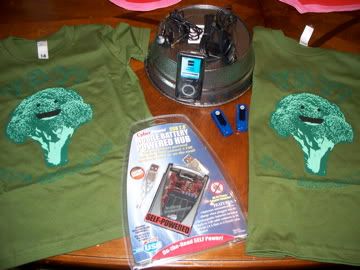 It completely made my day.