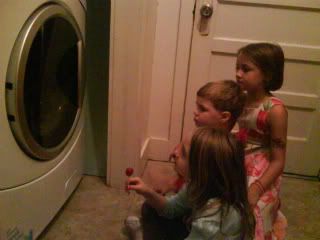 Well, let me back this story up. On Friday, we officially close on the house. But, for the last three weeks, we've been steadily moving things in. Each weekend, we head home to the old house to pack up more and bring a small trailer load each time. The plan is to have everything packed before we rent the big truck and do the major move about ten days from now.
We started doing comparison shopping on the things we'd need for the new house and came across a killer deal on a front loading, high-efficiency washer/dryer. $950 instead of $1400, but it was the last one. So we sprung for it and they delivered it today.
I have this philosophy that, when you move into a house, you pick the smallest room and get it done start-to-finish, right off the bat. That way you feel like you've accomplished something. When everything else is chaos, you can go into that guest bathroom or office closet and see proof that it will, eventually, all look like that.
Hence, the redoing of the laundry room before moving in. It didn't make sense to get the w/d installed, then take them out to do flooring. And, if you're going to do flooring, you might as well paint first, right?
This is the hall to the backdoor/pantry that is next to the little laundry room.
Before: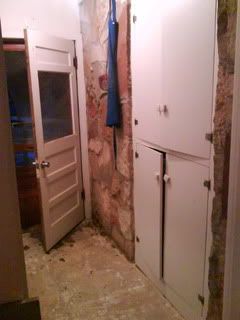 After: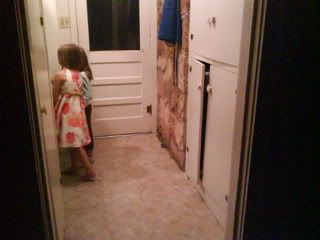 Did I mention the fantastic pantry? It is only two cans deep, so you can't lose anything, but so tall and wide that it holds a ton.
Didn't get a good before on the laundry room itself: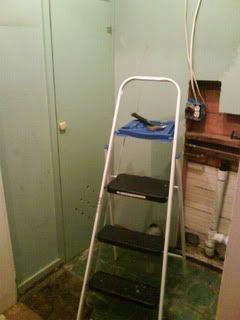 But this shows you the original green (on the door) and the new green. Ignore the green masking tape. It throws it all off: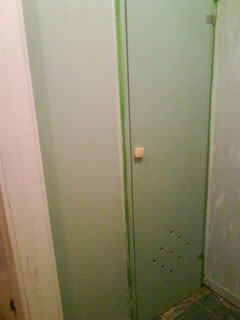 Same color, softer version. Fewer gouges out of it and no caked-on filth. Scrubbing took longer than painting.We have a rule in our family that kids get to help paint rooms when we are changing out flooring. So here's the first coat they put on one wall: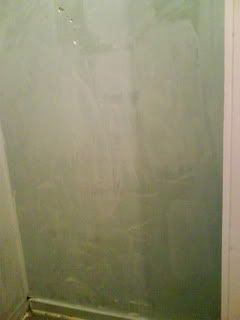 See the hearts and stuff?
We've still got to move the deep freeze in by the washer/dryer, but here they are, in all their energy-efficient glory: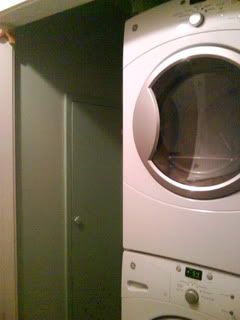 So just add some clothes . . .
And sit back to enjoy the show! It kind of helps you forget that the rest of the house doesn't look this good yet.