This Easter, there will be children's church during the service. This gives me hope of making it through alive.
Last year, by the time we even made it to the brunch at church, I was exhausted. Whining children, twisted feet on tights and uncooperative bonnets had conspired against me but there we were, at church and reasonably on time. It took a great deal of effort to leave the house with them looking like this: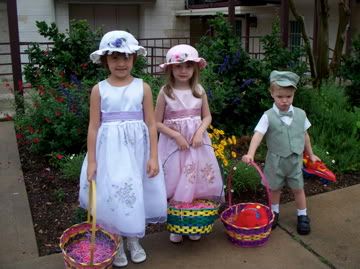 I didn't look so bad myself:
We'd barely made it in the door and gotten everyone somewhat seated when an exceedingly chipper churchmember tells me, "Gretchen! You should have worn a hat like ladies used to wear to church! It would look so cute with you in a hat and the kids in theirs! Too bad you didn't think of it."
Are you #$(**ing kidding me lady? Wasn't this work enough??
As Easter 2010 nears, I realize that, not only have I not found anything for Charlie to wear, I have no eggs, no dye, no basket stuff and no time.
Grrrr . . . Holidays were so much better when all I had to do was wake up and hunt eggs.