Things with Charlie have not improved. I spent a good chunk of yesterday calling around for appointments, evaluations, paperwork and to see if I could find some form of appropriate preschool for him.
Not much progress.
I did get a neurologist appointment for him in May. For so many of the things I've looked into, we need an official diagnosis, whatever it may be. Right now we have a working diagnosis from one clinic of Pervasive Developmental Disorder-unspecified.
As sure as I am that he is on the autism spectrum and has sensory issues in some form, I also dread having that official declaration to label my son. A friend of mine got her son's official declaration today: cerebral palsy. I found myself telling her, "A diagnosis is words. It can describe him, but will never define him. As you help him define himself, you help him overcome so much."
I've never needed words so much as I needed those words today.
I've noticed my page view stats have been going down lately. I know the voice and tone of the blog have changed lately. Thanks to those still here for sticking around when it isn't so lighthearted and funny. I see so little of the girls right now, and so much of Bad Mister Bad.
But I do have one good one for you.
I went to Gymboree today to spend some gymbucks and ran into a friend. In the back of the tiny boutique-arranged store there are three little chairs and a television set. In a store that small with closed doors that heavy and only a half-dozen mommies there to shop, I am fine with Charlie hanging out back in that area.
Today Charlie decided to shop, presumably to establish a defining look for Bad Mister Bad. Gymboree's clothing is all based on lines and there will be 25 or so mix-and-match pieces and accessories within each line.
He began by grabbing a pair of skull-and-crossbones swim trunks in grey and green, then sitting on the cross bar in the middle of a circular clothing rack, clutching his treasure. A few minutes later, he emerged just long enough accessorize and snagged the matching flip flops and sunglasses. The glasses rocked--they were a gunmetal grey with mirrored lenses with a superimposed skull in the middle of each lens. The flip-flops were just as badass.
After another ten minutes or so under the clothing rack he went back to complete his ensemble. Having rejected all the cutesy shirts and overalls adorned with pirate ships or little bearded and peg-legged mateys waving their hooks about, he came to me and said, "I need shirt. I can't find it."
Dismayed that nothing lived up to the coolness level of his intended wardrobe additions, he handed over his booty and sat down his other booty in the green chair to watch the kiddie shows with the other little kiddies.
The trunks that started it all:
Accessorizing at its finest:
Why would Bad Mister Bad wear something as wimpy as this: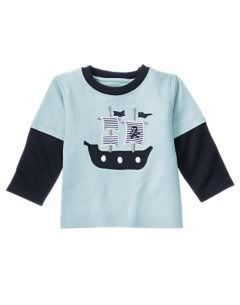 when he could be a man and wear these?