I know I have spent way more time and energy and money decorating (and fretting over decorating) than any other double-wide dweller in human history, but I love having little places in the house where I can look and see beauty, take a deep breath, and feel calmer about my hectic life.
As I was looking at this little nook in my dining room and having a little sigh, I realized that nothing there was intended for that space.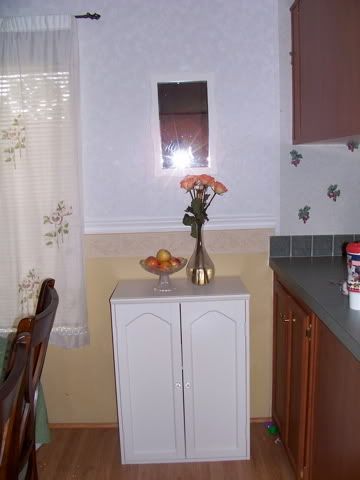 The mirror was a birthday gift from my good friend (and faithful reader) April. I tried a couple of spots, but none of them really worked. So I stuck it on this wall and left it there. That was three birthdays ago.
The cabinet was purchased on clearance at Kmart for $16. I bought four cabinet pieces with no idea of what I wanted to do with them--only this vague idea that they could go in my closet when it became a craft room. Then I assembled them and found them to be quite lovely--too lovely for a closet. Two pieces got stacked and became a corner hutch. The other two pieces did not look good stacked, so one got put in the corner under the mirror because I didn't know what else to do with it. I looked at it one day and thought, "Hey, the mirror finally fits!
The fourth is about to become a shoe rack. I had the idea last night and I'll share pics when I get it figured out.
The fruit bowl was a wedding gift from one of my students. When we got married, it was a free-for-all. Everyone was invited, including my students and one of them actually came and gave me this lovely dish. I kept it on the counter for awhile, but had most recently used it on the dining room table, where it served a lovely purpose until the children discovered fruit juggling. I set it on the cabinet one day while cleaning the table off and liked having it there so much that I left it.
The vase is a wine cask. The flowers are from Melody. She insisted on buying me orange roses while her sister was in gymnastics Tuesday night and Dowlan went along with her plan. The apples, well, just haven't been eaten yet.
I just love the balance of the fruit and the flowers and the way the orangey-peachy colors are in both. And the way the two clear glass items flow together. And the white framed mirror with white cabinet with similar trim details.
So after the fruit bowl got moved from the table, it was bare. I bought a iron and stone decorating shelf that was supposed to have a centerpiece on top and condiments underneath, or a centerpiece underneath and food set on top or a two-tiered centerpiece or a million other ideas. But it was too tall. So now it holds all the bread in the kitchen in one tidy spot. (Pardon the terrible pics!)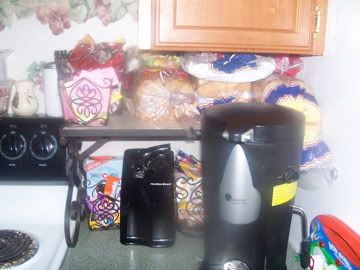 It practically disappears in the kitchen: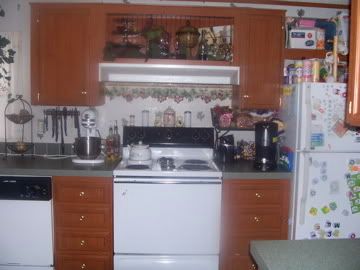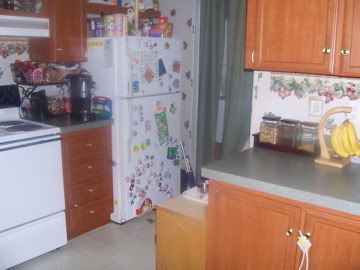 I had this other piece that was bought to go on a piece in the living room that never quite fit there. I sat it on the table one day to move it and loved it there. And I love that I can redecorate it for different seasons.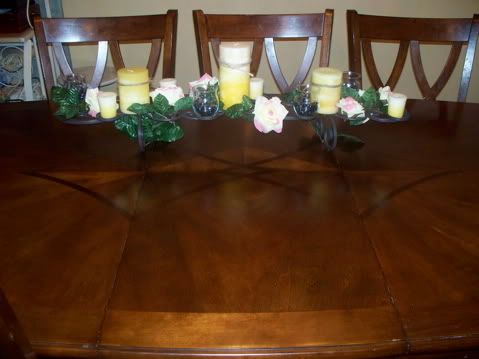 For fall: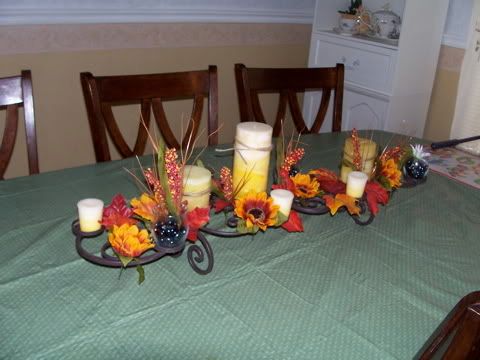 And I really love the fact that it all got there on accident.